TherapyWorks is the premier physical, occupational, lymphedema therapy, and medical massage therapy center delivering a holistic 'hands-on" personalized approach to anyone striving to feel their best.
Our staff is passionate about providing you the best care possible to keep you healthy or to provide you with the proper rehabilitation for pain, injury or disease.
We help people feel better. Whether you just want to stay active and healthy, seek to improve as an advanced athlete, or need help to regain your fulfilled life following injury or disease, our staff is here for you.

Our ultimate goal is to provide you with proactive health care designed to prevent and treat pain, disease, and injuries of all types so you can live life to the fullest.
Your health and wellness dictates the experiences and outlook you have on your life. Our staff is focused on ensuring each of our customers receives proven, natural physical treatment to ensure you enjoy maximum wellness.
We promise each customer individual treatment focused on your physical wellness. Your wellness is our ultimate goal.
We carefully team up with the best therapists to ensure a friendly, professional experience every time you visit us.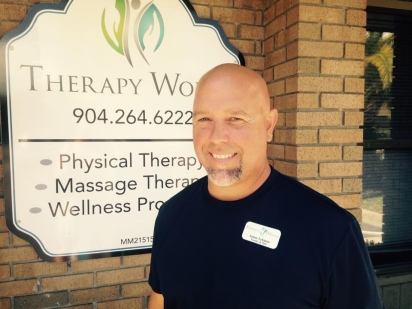 James is the founder and CEO of Therapy Works' Rehabilitation Centers. He has been a practicing neuromuscular therapist specializing in advanced manual therapy, neuromuscular therapy, manual lymphatic drainage, and injury rehabilitation since 1994. He has successfully treated thousands of people that suffer from soft tissue injuries, acute and chronic pain, disease, and stress related ailments.  In his spare time, James enjoys exercising, boating, camping trips, and spending quality time with his wife and son. Lic MA18894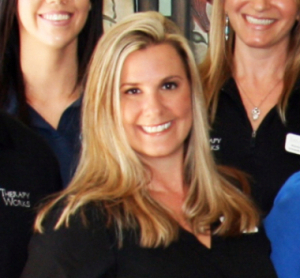 Tommie-Lee is a graduate of Florida State University with a bachelors degree in Management. She serves as vice president of TherapyWorks of Jacksonville and handles all of the important daily functions of the office, in addition to all administrative and personnel issues. Tommie-Lee brings her great knowledge finance, billing, human resources, and organization to maintaining a consistent and productive office.
Jacksonville native and mother of two, Theresa Scully has been a physical therapist since 2000, earning her degree from the University of North Florida. She proudly worked for the Jacksonville Jaguars as a Roar cheerleader from 2003-2006. As an orthopedic physical therapist, she has extensive experience in sports medicine, orthopedic injuries, post-surgical rehabilitation, low back pain, neck pain, and various other chronic pain pathologies. At the start of her career, she began researching treatment programs that were successful in treating chronic low back pain and neck pain. This research lead her to the wonderful world of Pilates! She integrated Pilates exercises in her treatment programs and was intrigued by the immediate reduction in pain and improvements in the daily functions of her patients. She became a certified Mat Pilates instructor in 2002, applying the Pilates method to most of her treatment programs. She has received Pilates apparatus training from Balanced Body University. As a part of her own fitness training she is well versed in strength training and yoga.
Megan grew up outside of Orlando. After graduation she attended Winthrop University in Rock Hill, SC where she received a degree in Biology in 2003. She moved back home following college where she went on to attend the University of Central Florida earning a Master's of Science in Physical Therapy in 2007. Following graduation she moved to Greenville, SC where she began her career in Outpatient Orthopedic Therapy specializing in treatment of non-operative and post-operative orthopedic conditions affecting the whole body. Since 2012 she has also been practicing Vestibular Therapy for the treatment of dizziness and imbalance. In 2015 Megan, her husband Jeremy and their two children Andrew and Emily moved from South Carolina to Jacksonville. In her free time Megan enjoys running, reading, cooking and baking, and watching her children play sports.
Marcy is a 2001 graduate from the Masters Occupational Therapy program at St. Francis University in Pennsylvania.  The bulk of her background is in short-term and long-term rehab, however, the past few years have found her in a variety of settings.   She became certified in lymphedema and wound management in late 2014 and currently is expanding her knowledge further with instruction in myofascial release techniques.  Marcy enjoys CrossFit training and has been known to incorporate weight lifting with functional movements into her treatments. In her personal time, she also enjoys paddle surfing and scuba diving, among other pursuits.
Donald graduated in 2015 from the Florida State College at Jacksonville with an A.S. Degree in the Physical Therapist Assistant Program. Originally, Donald pursued a degree in psychology at Harvard University, but decided to focus his attention on treating the physical body and became a Licensed Massage Therapist in 2005. His main treatment specialties as a massage therapist are providing Deep Tissue, Myofascial release, Sports massage, and Neuromuscular techniques for acute and chronic pain. He enjoys finding new, adventurous restaurants to try with his wife and spending time with his young son outdoors. He also loves being at the beach or pool with his family. Donald considers himself a "sports psycho" and is a die-hard Seminole and as a local Bolles School graduate, takes great pride in calling himself a Jacksonville Jaguar fan.
Upon graduation from the College of Health Professions Occupational Therapy program at the University of Florida in 1995, Cindi joined Brook's Rehabilitation Hospital (formally known as Genesis), where she gained knowledge and experience by treating patients with traumatic brain injuries, spinal cord injuries, strokes and other neurological conditions. In addition, Cindi gained additional education and acquired a RESNA certification as an Assistive Technology Practitioner (ATP) in 2001. She recognized the need to provide this specialized service within the Jacksonville community for individuals who were homebound and couldn't travel to a wheelchair clinic. Today, Cindi and her team's vision and ideas continue to provide holistic patient care by solving each patient's individual mobility problems, whenever there's a lack of proper equipment, assistive technology or environmental accessibility.
Tiffany graduated from Daytona State College in 2011 for Massage Therapy and is certified by the National Certification Board for Therapeutic Massage & Bodywork (NCBTMB). She also acquired certification for Medical Massage in 2013 and has been working as an LMT in Florida providing excellent patient care mostly in medical settings, which she prefers. She is passionate about helping people and is dedicated to being a part of patients' rehabilitation. She is a Florida native and moved to Jacksonville in 2014. In her spare time she likes to spend time outdoors with her family.

Crystal graduated from The Florida School of Massage in March of 2003. She is certified by the National Certification Board for Therapeutic Massage & Bodywork (NCBTMB). She became certified for sports massage in 2004 and received her certification for Neuro-Muscular Therapy (NMT) in 2006. She has worked in a clinical setting for most of her career and puts a focus on whole body wellness and preventative care. A native of Jacksonville, she enjoys spending time with her family in her spare time.
Jessica has been a C.N.A. (certified nursing assistant) for 4 years and am highly experienced in dementia care. A majority of her experience is working with patients with memory problems typically Alzheimers, Parkinsons, and Huntingtons.  She is currently enrolled in college and soon to be The Florida State College of Jacksonville nursing program. Jessica has always loved taking care of people. Her hobbies include anything outdoors, but you will mostly find her lying out by the pool or at the beach with a Dr. Pepper.  She has been a Floridian her whole life and she loves the summertime. She looks forward to furthering her education to a BSN someday in the near future.

Rachel was born and raised in Baltimore, Md. where she worked in numerous nursing/rehabilitation facilities and assisted with at-home care for patients with frontotemporal dementia. She enlisted in the Florida Army National Guard in 2011 after serving in the Navy for a year, and returned to Maryland to participate in the Johns Hopkins ROTC program while attending the University of Maryland, Baltimore County. Rachel simultaneously commissioned as a 2nd Lieutenant in the Florida National Guard, branching Air Defense Artillery, and graduated with a Bachelors of Arts in Psychology at UMBC in May 2014 before moving to Jacksonville. She is currently finishing her pre-requisites at Florida State College of Jacksonville before applying to Doctorate of Physical Therapy programs. Rachel is a die-hard Ravens fan, who enjoys baking, hot yoga, hiking, bike rides, and kayaking.

Kiz is a Jacksonville native and mother of 2 wonderful children. She began working for TherapyWorks in 2010 as the front office administrator and receptionist at our San Marco location. Kiz truly enjoys seeing how much better patients feel after their therapy and ensuring that the office runs smoothy throughout the day. On her time off, she enjoys reading, socializing with friends and family, watching movies, and shopping.
Born in Upstate, NY, went to high school in Jacksonville, FL and studied psychology at Canyon College.  Wendy has worked in medical office management for the past 8 years and general office management for the past 15 years.  She has 5 children and currently lives in Bradford County.  She enjoys fishing, hunting, camping, and baseball, in addition, she volunteers as a coach for little league baseball.  Wendy enjoys challenges and loves being told she can't do something just so she can do it and prove everyone wrong!  She lives by the belief that "You get out what you put into life including work.  If you expect 100% then you have to give 100%".
Kelly is married to her husband Jonny and a mother of 3 boys and 2 grandsons whom she truly enjoys being a part of each one of their daily lives.  She handles the daily tasks involved with disinfecting and cleaning all of the linens for the facilities on a daily basis which is a very important part of Therapy Works model.  Kelly states "At TherapyWorks, we pride ourselves by offering a comfortable and relaxed atmosphere through the use of clean, fresh linens instead of paper products."