TherapyWorks is the premier physical, occupational, lymphedema therapy, and medical massage therapy center delivering a holistic 'hands-on" personalized approach to anyone striving to feel their best.
Our staff is passionate about providing you the best care possible to keep you healthy or to provide you with the proper rehabilitation for pain, injury or disease.
We help people feel better. Whether you just want to stay active and healthy, seek to improve as an advanced athlete, or need help to regain your fulfilled life following injury or disease, our staff is here for you.

Our ultimate goal is to provide you with proactive health care designed to prevent and treat pain, disease, and injuries of all types so you can live life to the fullest.
Your health and wellness dictates the experiences and outlook you have on your life. Our staff is focused on ensuring each of our customers receives proven, natural physical treatment to ensure you enjoy maximum wellness.
We promise each customer individual treatment focused on your physical wellness. Your wellness is our ultimate goal.
We carefully team up with the best therapists to ensure a friendly, professional experience every time you visit us.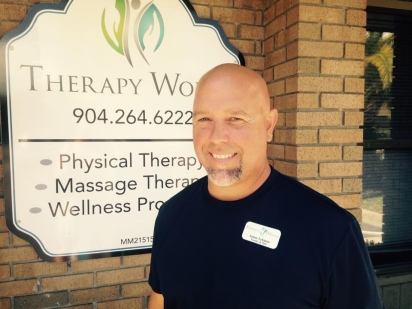 James is the founder and CEO of Therapy Works' Rehabilitation Centers. He has been a practicing neuromuscular therapist specializing in advanced manual therapy, neuromuscular therapy, manual lymphatic drainage, and injury rehabilitation since 1994. He has successfully treated thousands of people that suffer from soft tissue injuries, acute and chronic pain, lymphedema and stress related ailments. Currently, James manages all of the facilities operations, marketing, business development and professional relationship building. In his spare time, James enjoys exercising, boating, camping trips, and spending quality time with his wife and son. Lic MA18894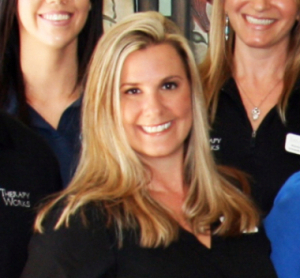 Tommie-Lee is a graduate of Florida State University with a bachelors degree in Management. She serves as vice president of TherapyWorks of Jacksonville and handles all of the important daily functions of the office, in addition to all administrative and personnel issues. Tommie-Lee brings her great knowledge finance, billing, human resources, and organization to maintaining a consistent and productive office.
Jacksonville native and mother of two, Theresa Scully has been a physical therapist since 2000, earning her degree from the University of North Florida. She proudly worked for the Jacksonville Jaguars as a Roar cheerleader from 2003-2006. As an orthopedic physical therapist, she has extensive experience in sports medicine, orthopedic injuries, post-surgical rehabilitation, low back pain, neck pain, and various other chronic pain pathologies. At the start of her career, she began researching treatment programs that were successful in treating chronic low back pain and neck pain. This research lead her to the wonderful world of Pilates! She integrated Pilates exercises in her treatment programs and was intrigued by the immediate reduction in pain and improvements in the daily functions of her patients. She became a certified Mat Pilates instructor in 2002, applying the Pilates method to most of her treatment programs. She has received Pilates apparatus training from Balanced Body University. As a part of her own fitness training she is well versed in strength training and yoga.
Barbara received her BS in Nutrition and Fitness and Biology from Florida State University. She further when on and received her Doctorate of Physical Therapy from University of St. Augustine. She has been a Physical therapist for 11 years and has worked in many different settings including acute care and skilled nursing. Her background is with treating orthopaedic related injuries, but she has also worked with the aging population. She loves seeing the progress patients make during therapy and being part of the process of getting people back to playing sports related activities and resuming normal daily function. In her spare time, she loves spending time with her family and friends and traveling abroad.
Dan received his Master's of Occupational Therapy at the University of South Alabama. Since lymphedema therapy combined OT and his hobby of massage, he has been focusing on complete decongestive therapy since 2010. He has provided relief for hundreds of patients with lymphedema, lipedema, and post-surgical swelling. His Master's in Biomedical Engineering comes into play when designing or modifying compression garments and adaptive equipment. In his spare time, Dan enjoys kayaking, massage, and working in the yard.
Barbara has been a PT for 30+ years and has worked in a variety of settings, including: acute care/long term acute care hospitals, rehab centers, skilled nursing facilities and home healthcare. She became a certified Lymphedema therapist 4 yrs ago, while living in Philadelphia. After going to a brief course about Lymphedema, she knew that she had to become certified in Lymphedema therapy, and incorporate this treatment to further assist people in achieving their goals, reducing pain, and successfully caring for their lymphedema.
Tim is a Graduate of the Florida School of Advanced Bodywork in 2016, he currently has achieve these accolades over his years in the healing arts: Thai Healing Alliance International, Registered Thai Therapist since 2015; Registered Yoga Teacher/Educator since 2011; Certified Personal Trainer Since 2000; 2nd Degree Black Belt Kodokan Judo since 1996; 1st Degree Black Belt Imperatori Karate Since 1990; Kru (Coach) Muay Thai International Association 2010; Coach Gracie Jiu- Jitsu since 2003; Florida High School Wrestling Coach – Providence School of Jacksonville (former Head Coach)
Outside of Therapy/Bodywork and teaching Yoga, Tim is a amateur multi-instrument musician consisting of African Djembe Drums, Native American Drums/Flutes and Eastern Tongue Drums and is pursuing the effects of music in Healing and Musical Therapies. He has two wonderful boys who have followed him in some of these passions/traditions.

Debbie graduated from the Southeastern School of Neuro-muscular Therapy in 1996 and has treated a broad array of soft tissue injuries ranging from TMJ, headaches, neck pain, lower back pain, sciatica, pre and post natal, and sports injuries. She truly defines the meaning of giving a therapeutic massage since her treatments are extremely specific to isolating the root of the problem and treating it appropriately therefor bringing healing to the area of pain or discomfort. In her spare time, she enjoys handing out with her husband and family and enjoying relaxing down time.
Annette was born in Johnstown PA and raised in Jacksonville Fl.  She graduated from Mandarin High in 2012 and graduated from Keiser University in 2015.  She was president of her Cohort at Keiser University and truly loves the opportunity to help patients recover from injuries and disease.  Many times patients come in with little hope of ever getting better,  so she finds it important to keep her patients motivated because keeping a positive mind aides the body in healing. She loves to spend time with family and friends, travel, and learning new recipes.
Kiz is a Jacksonville native and mother of 2 wonderful children. She began working for TherapyWorks in 2010 as the front office administrator and receptionist at our San Marco location. Kiz truly enjoys seeing how much better patients feel after their therapy and ensuring that the office runs smoothy throughout the day. On her time off, she enjoys reading, socializing with friends and family, watching movies, and shopping.
Colleen services as our Orange Park location office manager and clinical intake coordinator. She moved from New Jersey to Florida in Feb 2018 and started her career at Therapy Works. She absolutely loves her job and helping to run the daily operations of the office; she really enjoys working with the patients that she comes across on a daily basis. She chose medical billing /Managing due to it's a challenge position and the opportunity to learn something everyday. And she loves her patients and co workers "we are like a family". During her spare time, she enjoys spending it with her fiancé , family and friends either dinner nights or on the weekends were they are poolside or camping.
Amy handles all of the complexities and challenges with submitting and posting claims on a day-to-day basis. She brings years of experience in the physical therapy billing field and keeps a good financial workflow in office place.
Kelly is married to her husband Jonny and a mother of 3 boys and 2 grandsons whom she truly enjoys being a part of each one of their daily lives.  She handles the daily tasks involved with disinfecting and cleaning all of the linens for the facilities on a daily basis which is a very important part of Therapy Works model.  Kelly states "At TherapyWorks, we pride ourselves by offering a comfortable and relaxed atmosphere through the use of clean, fresh linens instead of paper products."